Compact – CA Inter Corporate & Other Laws - Latest Edition for May & Nov 23

Compact Book–CA Inter Law-May/Nov 24

Compact – CA Final Corporate & Economic Laws - May & Nov 2023

Stock
Out

The Last Ride- Tax & GST Summary-Cum-Chart Booklet | CA Vijender Aggarwal | May & Nov 2023 Exams
PASSION IS RELENTLESS DETERMINATION TO ACHIEVE WHATEVER IS MOST IMPORTANT TO YOU...
About CA Harsh Gupta
1. The author, being a qualified CA and CS has been a consistent performer with ranks at all the four stages viz.
• CS professional – Rank 2
• CS executive – Rank 14
• CA final – Rank 40
• CA intermediate – Rank 4
2. Passion to master the art of interpretation drove him to get the best paper award in company law (CS), having secured 90 marks
3. He is also a first class graduate from Hansraj College, having secured 98% marks in the paper of law
4. He has practical exposure of Corporate Restructuring on high-value deals, having been worked with EY in the field of M&A
5. Having the vision to train his students in such a way that they can
• find logic in law
• establish inter-linkages with other subjects
• easy learning of the law, post-conceptual clarity
• MASTER THE ART OF INTERPRETATION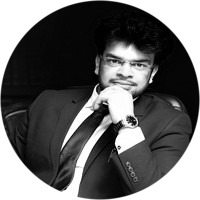 Making my students MASTER THE ART OF INTERPRETATION – this is the vision to which I will be honestly devoted as a teacher now. I want them to start enjoying the subject of LAW and not just study it for passing sake. I want that basis their academic knowledge, they gain such level of confidence that they never feel hesitant to implement it in real life.
Bcom(H) from Hansraj College(DU)
Cleared CA IPCC securing AIR 4
Cleared CS Executive securing AIR 14
Cleared CA Final securing AIR 40
Cleared CS Professional securing AIR 2
Knowledge of the Subject
95%